TEAM BUILDING
Organisations that rely on teams to accomplish objectives need to ensure that team members are functioning in high-trust, low-friction environments. Personality conflicts are a common part of group dynamics that can interfere with productivity, but are often preventable when people have a better understanding of what makes their colleagues tick. Assessment tools provide people with the opportunity to get to know important information about each other that often gets overlooked in day-to-day work.
The hardest skills in business (and life) are working with other people because everyone has different beliefs and a different view of how work should be done. Teams, of course, are made up of individuals, and no two individuals have the same personality. For this reason, it helps to use assessment tools to allow team members to understand each other's work preferences.
These assessments are just as useful to teams who have formed recently as they are to teams that have worked together for long periods.
DISC PROFILE

in TEAM BUILDING

This assessment measures 4 core behavioural tendencies.

DISC is one of the world's most popular team building tools. The most productive teams understand how each individual member likes to operate: how they prefer to be communicated to as well as what pushes their buttons. DISC gives people this language. Having a set of terms to discuss behavioural differences can help a team understand the inherent strengths and potential areas for conflict that commonly arise in group situations.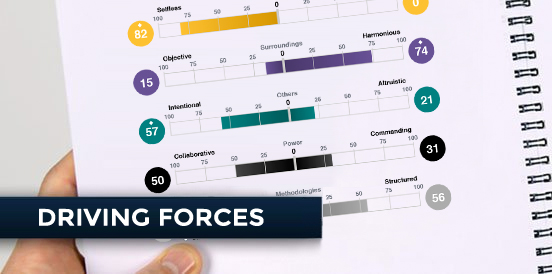 DRIVING FORCES

 in TEAM BUILDING

This assessment measures 6 core values or motivators.

A key component of trust between two individuals is the alignment and awareness of values. There are 12 primary values (or driving forces) that determine the lens through which we view the world and shape our view of what ideas, experiences and people we will tend to favour or avoid. By understanding others' primary values, we are able to not only build better relationships, but understand the root cause of conflict.
TTI EMOTIONAL QUOTIENT

in TEAM BUILDING

This assessment measures 5 core dimensions of EI.

Although emotions and feelings may seem trivial from a business point of view, they have real consequences for getting work done and improving the company's bottom line. The most effective teams operate with emotional intelligence. Teams that understand the principles of EI take an active role in managing their own (and others') emotional energy and directing that energy into productive outcomes.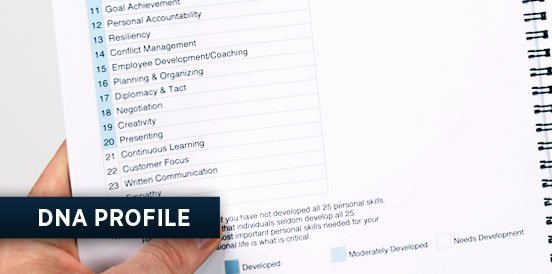 DNA PROFILE

in TEAM BUILDING

This assessment measures 25 competencies or soft skills.

The DNA profile is so named because there are 25 soft skills that are the basis (or building blocks) for performance across many different roles. Identifying the level of mastery of each of these competencies allows team members to understand where they should focus their time and attention to best manage their own professional development.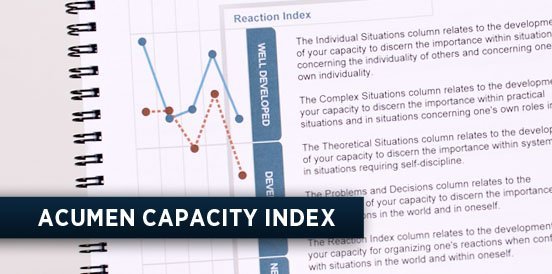 ACUMEN CAPACITY INDEX

in TEAM BUILDING

This assessment measures 3 core dimensions of thought.

Everyone's brain has a unique thought process or model through which we filter and assess our views of the world. These patterns of thought determine our acumen: our ability to make good judgments (related to, but different from, business acumen). Understanding our acumen allows us to understand our natural talents and overall potential.
YOUR DIFFERENCE:

MULTI-SCIENCE PROFILES

One of the advantages of the TTI suite of tools is that we offer you "multi-science" reports, which provide integrated feedback. With this multi-dimensional view, leaders and managers are able to understand themselves and others at a much deeper level than just using a single assessment. The additional advantage to multi-science assessments is they provide you with a layered development plan for leaders. For example, leaders can work through information on their behavioural style, motivators, and emotional intelligence in one short sitting or they can tackle it one phase at a time over several months. Multi-science reports provide better options for training, more comprehensive information, and more "ah-ha" moments.
Increase the Value of Your Consulting
Your consulting is only as strong as your tools. Why not use the assessment tools over 7,000 consultants worldwide leverage to enhance lives, improve organizations and increase productivity for the world's best companies?