STRATEGIC PLANNING
Many organisations view strategic planning as a process for determining where an organisation is headed in the near future, often in the next 3-5 years, but sometimes over an even longer period.
The key components of strategic planning typically include an understanding of the organisation's purpose, vision, mission, and values. Among the most widely used tools for strategic planning is the SWOT analysis (standing for Strengths, Weaknesses, Opportunities, and Threats). Other popular models that may be used in this process include the McKinsey "7S" framework and the "balanced scorecard", but there are numerous other models and adaptations that have been created by consultants over the years.
Assessments are another common type of tool used during strategic planning, which can be used as a framework the help the leadership team during the course of discussions to help the day go more smoothly.
DISC PROFILE

in STRATEGIC PLANNING

This assessment measures 4 core behavioural tendencies.

Many people like to use the DISC profile as part of strategy and executive planning sessions as a tool to better understand how each person in team likes behave and communicate. It can also be used as a short "energiser" activity during any part of the day. The DISC profile gives you not only an understanding of how you are perceived by others, but it also gives you a language to discuss your behaviour, communication preferences, and style of working.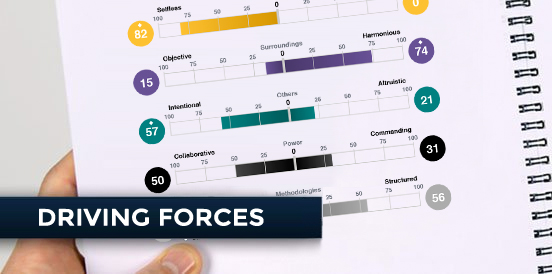 DRIVING FORCES in STRATEGIC PLANNING
This assessment measures 6 core values or motivators.
No two people have the same set of experiences. This diversity is what makes us each unique, but it can also cause friction when worldviews collide. This conflict can't be avoided, but it can be minimised by understanding how other people view the world. The Motivators assessment can be used as a framework to help senior executives understand and better appreciate what basic values will tend to influence the decision-making process.
TTI EMOTIONAL QUOTIENT

in STRATEGIC PLANNING

This assessment measures 5 core dimensions of EI.

Although emotions and feelings may seem trivial from a business point of view, they have real consequences for getting work done and improving the company's bottom line. Creating organisations that are emotionally intelligent is ultimately the leaders' responsibility. Training in EQ helps leaders with a framework to discuss emotional intelligence and the role that might play in corporate strategy.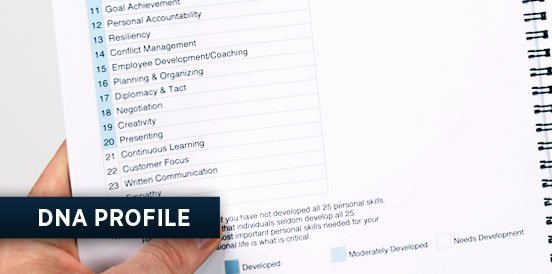 DNA PROFILE

in STRATEGIC PLANNING

This assessment measures 25 competencies or soft skills.

The DNA profile is so named because there are 25 soft skills that are the basis (or building blocks) for performance across many different roles. With an understanding of these skills, we can ensure the company has a plan to develop these skills over the long term.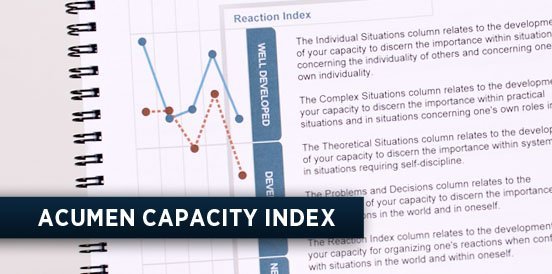 ACUMEN CAPACITY INDEX

in STRATEGIC PLANNING

This assessment measures 3 core dimensions of thought.

Everyone's brain has a unique thought process or model through which we filter and assess our views of the world. These patterns of thought determine our acumen: our ability to make good judgments (related to, but different from, business acumen). Understanding our acumen allows us to understand our natural talents and overall potential.
YOUR DIFFERENCE:

MULTI-SCIENCE PROFILES

One of the advantages of the TTI suite of tools is that we offer you "multi-science" reports, which provide integrated feedback. With this multi-dimensional view, leaders and managers are able to understand themselves and others at a much deeper level than just using a single assessment. The additional advantage to multi-science assessments is they provide you with a layered development plan for leaders. For example, leaders can work through information on their behavioural style, motivators, and emotional intelligence in one short sitting or they can tackle it one phase at a time over several months. Multi-science reports provide better options for training, more comprehensive information, and more "ah-ha" moments.
Increase the Value of Your Consulting
Your consulting is only as strong as your tools. Why not use the assessment tools over 7,000 consultants worldwide leverage to enhance lives, improve organizations and increase productivity for the world's best companies?