JOB BENCHMARKING
If a job could talk, it would tell us exactly what sort of person it required for superior performance. Because jobs can't talk, we've had to find other ways to work out what's important. The hard skills for a job are fairly easy to determine: things like level of education, experience and technical skills. However, what is sometimes harder to determine is what "type of person" would be most successful — one that would fit the role as well as the organisational culture.
The job benchmarking process identifies the traits and qualities that are most important to success in a particular job. Benchmarking is not a categorical way of determining who should or shouldn't be hired. It represents a structured way of comparing candidates by working towards a well-defined picture of what the most ideal candidate looks like so that hiring managers can make more informed hiring decisions.
Research done by TTI shows that job benchmarking is most effective when it incorporates multiple perspectives.
DISC PROFILE

in JOB BENCHMARKING

This assessment measures 4 core behavioural tendencies.

The only way to accurately determine whether a person has a good behavioural match to a job is by benchmarking the job description associated with that specific job. A DISC benchmark simply reveals the ideal DISC graph for the job. Once a benchmark has been established, it can then be used to help the hiring manager flag aspects of the role that might conflict with a candidate who does not fit the ideal job profile.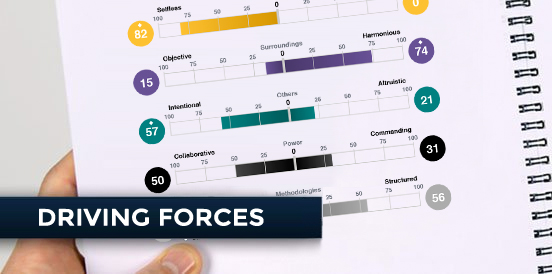 DRIVING FORCES

 in JOB BENCHMARKING

This assessment measures 6 core values or motivators.

Motivational job-fit is arguably the single most important job criteria to screen for when interviewing. Our values determine where we will tend to find enjoyment and fulfillment in the workplace. Starting with a motivational benchmark allows hiring managers to objectively determine what kind of person they are looking for, rather than simply hoping that the candidate will find the job engaging.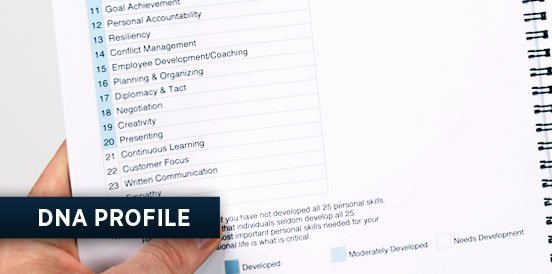 DNA PROFILE

in JOB BENCHMARKING

This assessment measures 25 competencies or soft skills.

The DNA profile is so named because there are 25 soft skills that are the basis (or building blocks) for performance across many different roles. Through the process of job benchmarking, hiring managers are able to determine the soft skills that are most necessary to fulfill the key accountabilities of the job, and then use this information to help with screening candidates.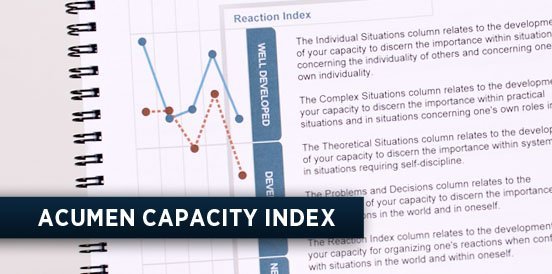 ACUMEN CAPACITY INDEX

in JOB BENCHMARKING

This assessment measures 3 core dimensions of thought.

Everyone's brain has a unique thought process or model through which we filter and assess our views of the world. These patterns of thought determine our acumen: our ability to make good judgments (related to, but different from, business acumen). Understanding our acumen allows us to understand our natural talents and overall potential.
YOUR DIFFERENCE:

MULTI-SCIENCE PROFILES

One of the advantages of the TTI suite of tools is that we offer you "multi-science" reports, which provide integrated feedback. With this multi-dimensional view, leaders and managers are able to understand themselves and others at a much deeper level than just using a single assessment. The additional advantage to multi-science assessments is they provide you with a layered development plan for leaders. For example, leaders can work through information on their behavioural style, motivators, and emotional intelligence in one short sitting or they can tackle it one phase at a time over several months. Multi-science reports provide better options for training, more comprehensive information, and more "ah-ha" moments.
Increase the Value of Your Consulting
Your consulting is only as strong as your tools. Why not use the assessment tools over 7,000 consultants worldwide leverage to enhance lives, improve organizations and increase productivity for the world's best companies?