CHANGE MANAGEMENT
Organisations are constantly undergoing change. Whether the change is small and concerns re-working daily processes and procedures, or whether the change involves re-structuring different teams and departments, or even merging together entire companies, change is a necessary and vital part of long-term organisational success.
Yet, all too often, when employees and stakeholders hear about a new change effort, they will resist. One of the reasons that change efforts fail is when leaders fail to take the human side of transition into account. In the landmark book on change management, John Kotter, a Harvard Business School professor who had been involved in 10-year study of more than 100 companies, reported the incredible finding that approximately 70% of change initiatives fail. Whether it was on a large scale involving a merger or on a smaller scale involving the implementation of a new performance management system, in every case change required the support of many stakeholders in order to succeed, but often failed to achieve the necessary commitment. This is where assessments can help.
DISC PROFILE

in CHANGE MANAGEMENT

This assessment measures 4 core behavioural tendencies.

Each of the four DISC styles have basic differences when it comes to handling change and dealing with stress. DISC is commonly used to help leaders understand team members' natural reactions when presented with change. With this information, leaders can learn what to do in order to gain their commitment by understanding the different needs and wants of each behavioural style.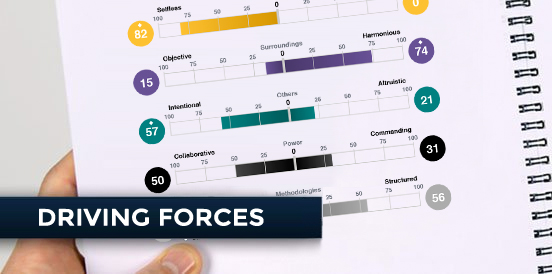 DRIVING FORCES

 in CHANGE MANAGEMENT

This assessment measures 6 core values or motivators.

All change requires energy. The key to leading change starts with the ability to energise others. Effective leaders recognise that motivating others to change is not so much about "projecting" energy as much as it about uncovering and unleashing energy to achieve a specific result. The motivators assessment gets to the heart of why we move into take action — our core motivators or "energisers."
TTI EMOTIONAL QUOTIENT

in CHANGE MANAGEMENT

This assessment measures 5 core dimensions of EI.

Resistance to change is rooted in our emotions, which can often include anger, distrust, suspicion and fear. The job of leaders is to use their emotional intelligence to move people from these negative states toward a state that embraces and supports the change. There are a number ways to influence others' emotions and the EQ profile is part of the framework that helps support this conversation.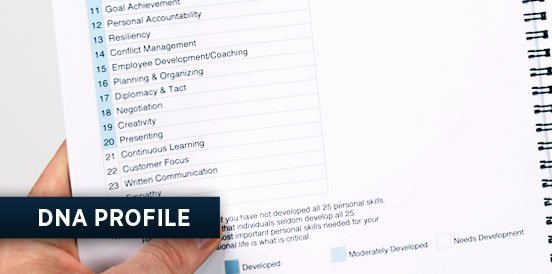 DNA PROFILE

in CHANGE MANAGEMENT

This assessment measures 25 competencies or soft skills.

The DNA profile is so named because there are 25 soft skills that are the basis (or building blocks) for performance across many different roles. An understanding of the skills that relate specifically to change management can help leaders understand where resistance might come from, as well as which individuals are skilled in change and might be well suited for spearheading a change effort.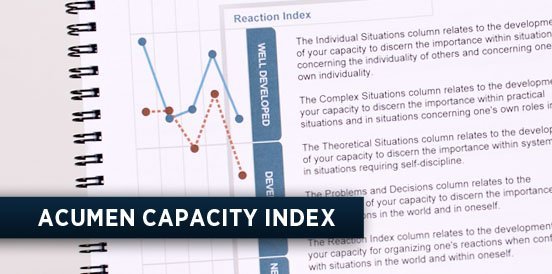 ACUMEN CAPACITY INDEX

in CHANGE MANAGEMENT

This assessment measures 3 core dimensions of thought.

Everyone's brain has a unique thought process or model through which we filter and assess our views of the world. Knowing which dimension of thought is strongest will help leaders understand how a person will interpret and react to change. With this information, we are better equipped to communicate the right message to the right people throughout the change process.
YOUR DIFFERENCE:

MULTI-SCIENCE PROFILES

One of the advantages of the TTI suite of tools is that we offer you "multi-science" reports, which provide integrated feedback. With this multi-dimensional view, leaders and managers are able to understand themselves and others at a much deeper level than just using a single assessment. The additional advantage to multi-science assessments is they provide you with a layered development plan for leaders. For example, leaders can work through information on their behavioural style, motivators, and emotional intelligence in one short sitting or they can tackle it one phase at a time over several months. Multi-science reports provide better options for training, more comprehensive information, and more "ah-ha" moments.
Increase the Value of Your Consulting
Your consulting is only as strong as your tools. Why not use the assessment tools over 7,000 consultants worldwide leverage to enhance lives, improve organizations and increase productivity for the world's best companies?