People Focused

Solutions

Our solutions provide measurable impact to your people and your business.
Selection
Attract and obtain the best people for your business
Onboarding
Educate, integrate and hit goals quickly with people who are new to a group
Coaching
Guide and advance people in their personal and professional journey
Leadership Development
Develop and advance with people who are empowered to lead others
Organizational Development
Craft the employee experience by optimizing interpersonal dynamics
Strategic Planning
Defining your organization's strategy and define resources to execute
Team Building
Enhance interpersonal dynamics between people in an organization
Training
Educate about specific skills and behaviors that enhance performance
Train the Trainer
Teach people how to instruct others to implement new skills
TTI Success Insights DEAP* system offers a complete suite of integrated talent management tools covering the HOW, WHAT and WHY of superior human performance.
*Discover, Engage, Advance and Perform
TTI Psychometric Assessments
What if one program enabled you to Discover the right talent, Engage current staff, Advance your high potentials and Perform at a higher level based on critical factors or performance indicators of the job?
Now thanks to TTI Success Insights, there is a complete suite of tools to empower you to do just that. We call it D.E.A.P – Discover, Engage, Advance, and Perform.
D.E.A.P is an integrated toolkit that allows you to mix and match assessments to address a range of human performance issues right through the talent life cycle so as to achieve superior performance at each of the individual, team and organisational levels.
You can see our suite of tools in more detail below.
Tools That Help

Your People
We deliver meaningful tools to solve some of the biggest people problems in organizations.
Assessments: On and offline surveys that record a respondents' unique combinations to a series of questions and statements to uncover elements of a person's personality
Reports: Narratives, graphics, and/or tables consolidated into a document generated from an individual's assessments responses.
Systems: Technology and platforms that enable people to manage assessments, reports and processes.
TTI Success Insights® DISC
DISC is the most widely used behavioral assessment tool, measuring four behavioral styles: dominance, influence, steadiness and compliance. DISC measures how a person behaves.
TTI Success Insights is the only provider of DISC assessments in the marketplace fully customized for the individual. All levels of within an organization can benefit from the information it provides.
Commonly used to: Improve teamwork and understand communication styles.
12 Driving Forces™ (Motivators)
12 Driving Forces™ (Motivators) unlocks the why behind an individual's actions, showcasing what drives their behavior.
Rooted in Eduard Spranger's esteemed 1928 research, 12 Driving Forces reveals how each individual is uniquely motivated in both life and work.
Commonly used to: Improve employee engagement, and determine job and culture fit.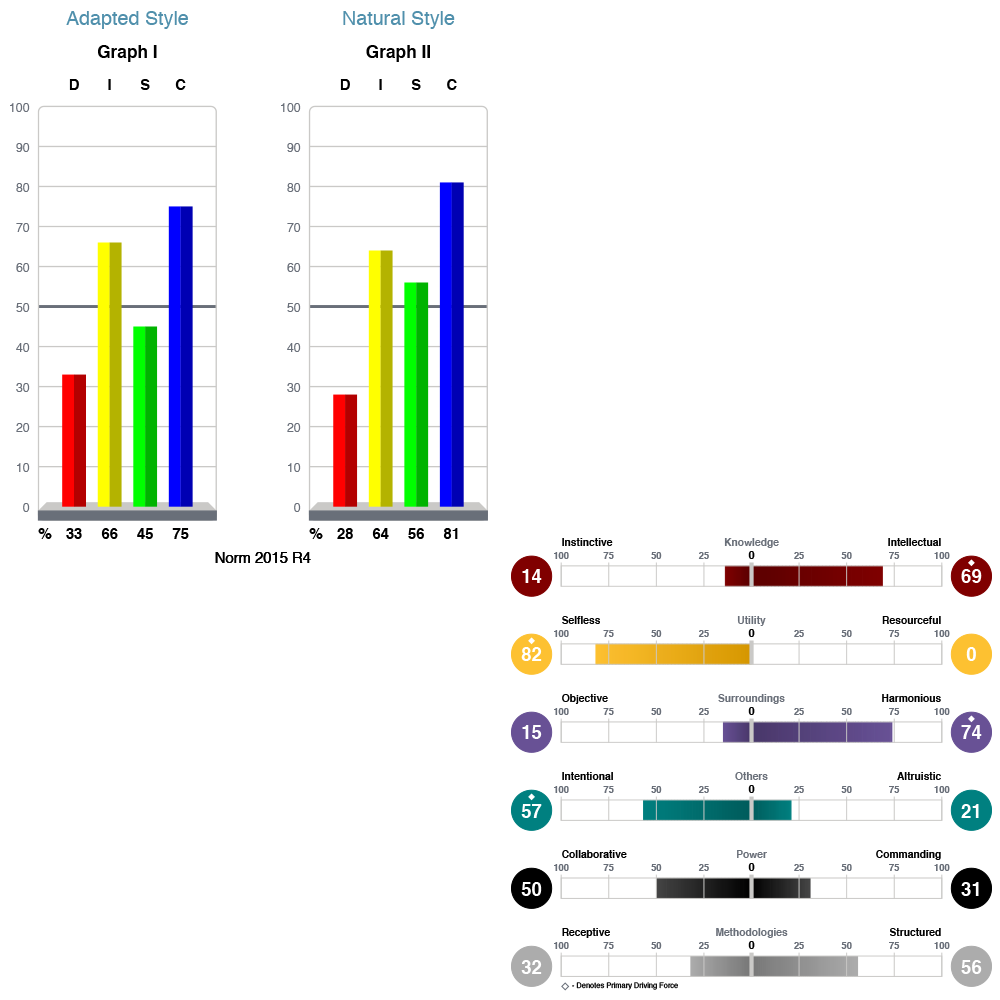 Talent Insights™
Combining both behaviors (DISC) and driving forces (motivators), this is an integrated report that explains the how and the why behind our actions.
Talent Insights examines the behaviors individuals bring to the job and the driving forces (motivators) that drive them.
Commonly used to: Engage employees, coach leaders, build better communication and to select team members.
TriMetrix® DNA
TriMetrix DNA describes how people behave, why they behave that way, and what the process is behind their decision-making. It also reveals soft skills they've mastered.
TTI TriMetrix DNA examines the behaviors individuals bring to the job, the motivators/driving forces that drive them and the ability to demonstrate the competencies required by the job.
Commonly used to: Develop talent effectively for leadership and for high potential team members, also for job fit evaluation.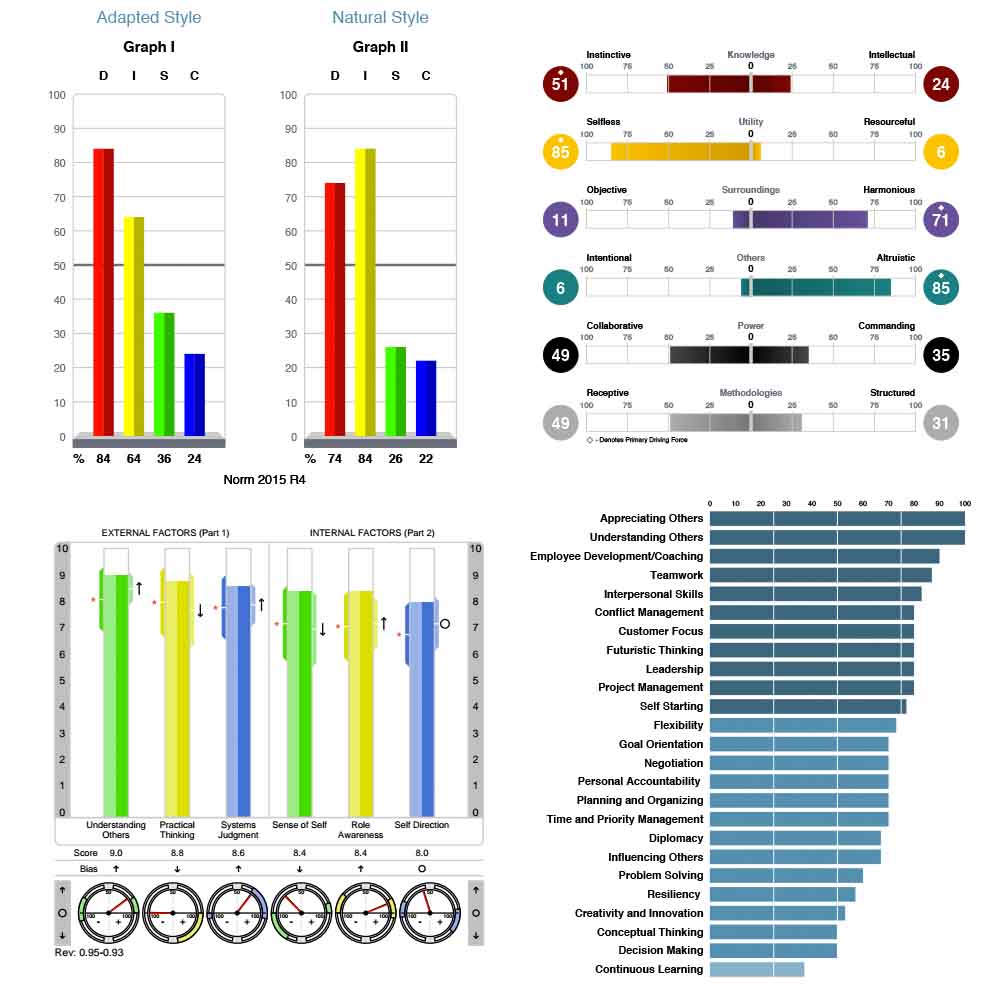 TriMetrix HD – Acumen™ (ACI)
Combining the 4 sciences of Behaviours, Driving Forces, Competencies and Acumen this comprehensive report explains not just the why, how and what of performance but also the potential.  
A person's Acumen, or their clarity or understanding of a situation is directly related to their judgment, problem solving ability, ability to respond rationally to situations, make balanced decisions and consequently their performance at both a personal and business level.
Acumen (or a person's keenness and depth of perception) looks at how we think and see ourselves and the world around us. TTI SI's Acumen Indicators can be considered a lens that people use to filter information: do they process events from a system standpoint, a task standpoint or a people standpoint?  Do they see themselves and the world clearly through the the three dimensions of thought and are the three dimensions balanced?  The three dimensions are:
Systemic (Theoretical)

Extrinsic (Practical)

Intrinsic (Personal)
Commonly used in: recruitment and selection, performance improvement, individual coaching and career planning.
Emotional Quotient™ (EQ)
Our EQ assessment accurately measures a person's emotional intelligence, which is the ability to sense, understand and effectively apply the power of overall emotional well-being to facilitate higher levels of collaboration and productivity.
Commonly used to: Develop leaders, engage teams, coach and in succession planning.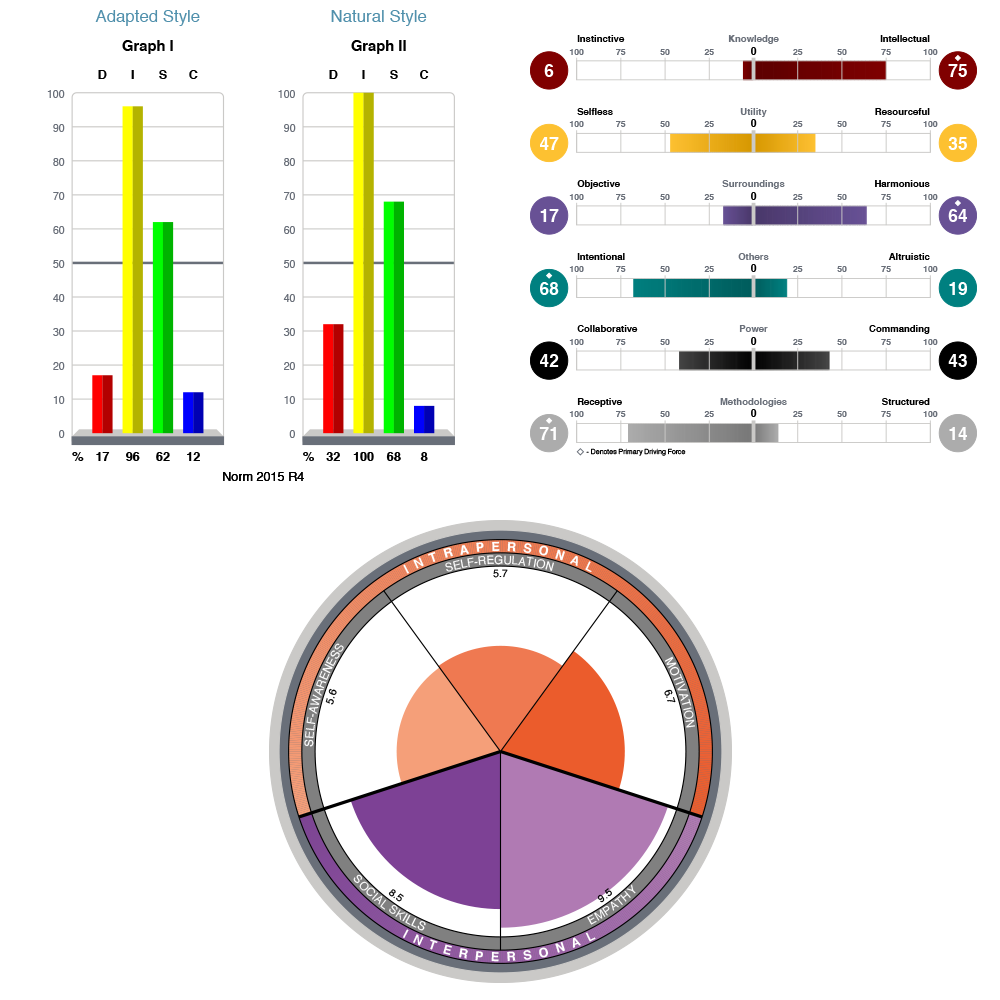 TriMetrix® EQ
TTI TriMetrix® EQ examines the behaviors individuals bring to the job, the driving forces that drive them, and an understanding of their own emotional intelligence.
TriMetrix EQ blends all three sciences together in an integrated section that will illustrate the impact emotional intelligence has on core behavioral styles, as well as the top driving forces.
Commonly used to: Assist in executive coaching, selection and the development of high potential employees.
Stress Quotient®
The Stress Quotient assessment measures workplace stress in seven index factors, revealing how stress affects the overall health, productivity and morale of both individuals and the teams.
A leadership version of the Stress Quotient is also available to help gauge a leader's stress level and their stress triggers.
Commonly used to: Identify root causes of stress, facilitate conversations to begin creating a plan that addresses the causes and to help improve employee performance and productivity.
Job Benchmarking
If a job could talk, it would tell us exactly what sort of person it required for superior performance. Because jobs can't talk, we have to find other ways to work out what's important. 
The hard skills for a job are fairly easy to determine: things like level of education, experience and technical skills. However, what is sometimes harder to determine is what type of behaviours, motivators, professional skills, etc. are required for superior performance in a role and therefore, what type of person would be the best match for the job and the organisational culture.
The job benchmarking process identifies the traits and qualities that are most important to success in a particular job. Benchmarking is not a categorical way of determining who should or shouldn't be hired. It represents a structured way of comparing candidates by working towards a well-defined picture of what the job actually requires and therefore what the most ideal candidate looks like so that hiring managers can make more informed hiring decisions.
Common uses:  Recruitment, succession planning, gap analysis and development planning.
OD (360) Surveys™
OD Surveys gives the ability to tailor surveys that uncover the effectiveness of employee performance, as well as the effective or ineffective practices of a team.
These organizational surveys determine where an organization can improve its services, policies and practices to achieve complete employee and customer satisfaction. In addition, the surveys can be tailored to a group.
Commonly used to: Aid organizations in understanding how leadership is viewed, and to better develop and grow as individuals and as a team.
Sales Skills Index™
The Sales Skills Index is an objective analysis of an individual's understanding of the strategies required to sell successfully in any sales environment.
Commonly used to: Determine if sales staff members understand the sales process, how they compare against top sales performers, and if they have the ability to sell. Used in sales training, team and leadership coaching, and as an all-in-one training guide.
Internet Delivery Service (IDS)®
The Internet Delivery Service (IDS) is a patented, proprietary program available exclusively to our Value Added Associates (VAAs). IDS allows a respondent to take an assessment digitally; the software then processes the results into an immediately available, personalized report. It allows VAAs to administer reports and access the information 24 hours a day, seven days a week.
VAAs are also able to monitor the use of the assessments assigned to clients, as well as provide the ability to combine, compare and conduct data analysis through one easy-to-access IDS account.
Commonly used to: Administer assessments to clients through individualized links, compare talent, manage multiple accounts and analyze assessment data.
Increase the Value of Your Consulting
Your consulting is only as strong as your tools. Why not use the assessment tools over 7,000 consultants worldwide leverage to enhance lives, improve organizations and increase productivity for the world's best companies?